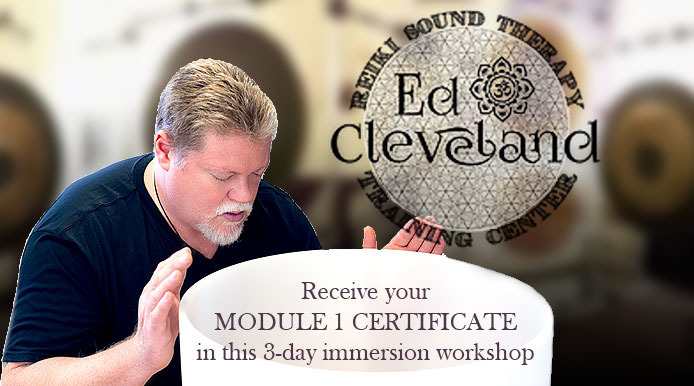 Date
Jul 23 2020
- Jul 26 2020
Time
9:00 am - 6:00 pm
Cost
$575.00
Foundation Certificate in Integral Sound Healing
3 DAY IMMERSION WORKSHOP JULY 23 – 25 FROM 9AM – 6PM
Sound Healing training Level 1
Ed Cleveland is a nationally recognized Sound Therapy teacher with over 16 years of study and training across an impressive range of energy healing modalities. Throughout his long career, he has used Sound Therapy and Sound Healing to treat people of all ages coping with a myriad of issues, including learning disabilities and Vascular Dementia. Using his comprehensive experience and expertise, Ed guides participants into deeper states of conscious listening, enabling them to unlock their inner wisdom, creativity, and relaxation response system. Since 2003, Ed has shared his award-winning healing arts techniques, teaching audiences as large as 300 people.
The purpose of this course is to familiarize participants with the basic principles of Sound Therapy. Through immersive instruction and hands-on teaching, you will learn the fundamental techniques to perform Sound Therapy on yourself and others. Discover the nuances needed to practice with numerous sound therapy instruments from around the world including Crystal Singing Bowls, Himalayan Singing Bowls, Gongs, Drums, Chimes, and a wide collection of other instruments.
What this workshop includes :
3-day immersion workshop, July 23-25, 9 am – 6 pm, at Elliott Museum of Stuart, Florida
Module 1 Certificate upon workshop completion
Complimentary workbooks
Hands-on teaching
Q & A and email support after certification is complete
Notes:
• Bring a note pad, anything you need to be comfortable
• Lunch is "on your own" feel free to bring something.
• We have a café on-premises-tap here for menu
• EARLY BIRD PRICE BEFORE JUNE 1, ONLY $575!
• After June 1 the cost will be $650
Given the uncertain nature of the Coronavirus Pandemic, the dates of this training are subject to change, however, at this time, we are keeping these dates.
Get more information on Ed Cleveland www.facebook.com/ed.cleveland.37
For more information on this workshop contact Deena Rahill at (786) 488-7782