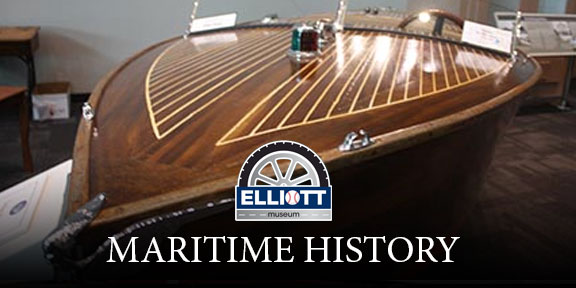 Date
Jan 01 2020
- Jun 01 2020
Expired!
Time
10:00 am - 5:00 pm
Cost
Included with Regular Admission
Maritime History
PERMANENT EXHIBIT
Displayed throughout the museum are key pieces from the Maritime and Classic Boat Museum collection. In 2013, The Elliott Museum merged with the Maritime & Classic Boat Museum – taking their permanent collection and incorporating it into the permanent collection of the Elliott. On display on our second floor, and throughout the museum, are key pieces from the Maritime & Classic Boat Museum collection. Including Cris Craft boats, boat models, Whiticar Boat Works artifacts, and more.
Outrigger Exhibit: A Tribute to Frances Langford and Ralph Evinrude
Beloved local celebrity Frances Langford is remembered in an exhibit featuring items from Langford's Outrigger Restaurant, as well as personal items commemorating her career as a radio, television, and movie star. Due to Frances Langfords marriage to Ralph Evinrude, the exhibit is paired with the evolution of Evinrude motors and their impact on Martin County and maritime history.
Tap here for the list of boats displayed at the Elliott Museum.
All permanent exhibits are included with Elliott Museum Regular Admission