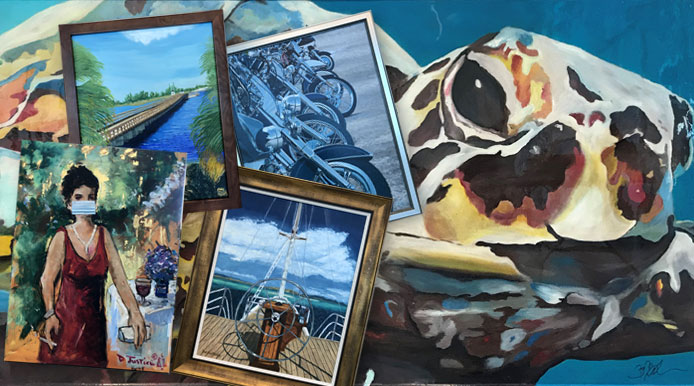 Date
Dec 27 2020
Expired!
Time
10:00 am - 5:00 pm
Cost
Included with Regular Admission
Portfolios – Eclectic Artists and Art
Elliott Museum's Portfolios – Eclectic Artists and Art
EXHIBIT ENDS JANUARY 4, 2021
The Elliot Museum, Historical Society of Martin County (HSMC) is pleased to announce a memorable exhibit, Portfolios – Eclectic Artists and Art at the Elliott. The exhibit highlights the artwork of artists from the Stuart area. Artwork will be in a variety of media, styles, techniques, and subjects. Painting, sculpture, photography, glasswork and jewelry will be included, with approaches ranging from traditional, to contemporary, to the unexpected.
This is an opportunity to present some of our local artists to the public.
Their artwork will be available for sale.
These artists have generously offered to donate a portion of profits to benefit and support the Elliott Museum.
Art and culture have long been an important aspect of our local community.
Portfolios offers a unique opportunity to recognize our artistic society and to support our treasured museum.
The exhibit will be installed through January 4, 2021.
Artist Included in the Exhibit:
Dale Beam
Laura Kay Whiticar Darvill
Dot Galfond
Linda Geary
Kevin Hutchinson
Denise Justice
Carol Kepp
Livia Krof-Debonet
Mia Lindberg
Brent McAhren
Sue Ann Mosley
Kim Nolan
Bruce Wells
Kate Wood
Exhibits are included with Elliott Museum Regular Admission