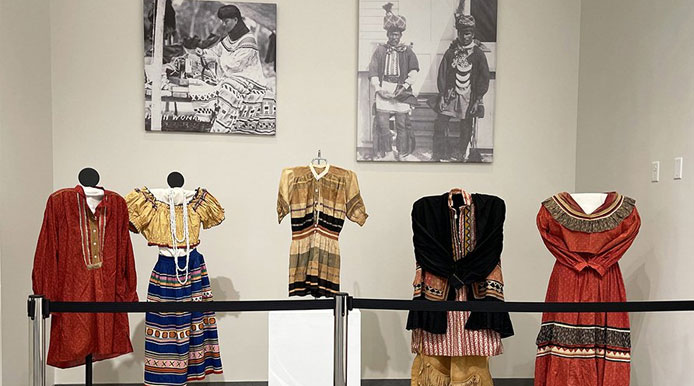 Seminole People of Florida – Survival and Success
Displayed through October 4, 2021
The Elliott Museum has unveiled the "Seminole People of Florida – Survival and Success," an exhibit that shows the history of the Seminoles' endurance, survival, and adaptation. The exhibit, is part of the Museum of Florida History's Traveling Exhibits (TREX) program and will focus on the rich material culture that the Seminoles created and sustained during the late 19th and 20th centuries. From isolation in the mid-1800s to the establishment of two sovereign tribes that oversee modern, successful businesses, the Seminole people have experienced an extraordinary journey.
The exhibit also will include artifacts from the nonprofit organization Loxahatchee Battlefield Preservationists. These artifacts show the Battles of the Loxahatchee, which occurred west of what is now Jupiter in January 1838 between the United States military and the Seminole Indians.
Additionally, guests will see artifacts from the museum's own Seminole collection, including Willoughby's expedition across the Everglades in 1897, a dugout canoe, and artwork by noted artist James Hutchinson from the time he spent living with the Seminoles in the Everglades.
In 1966, Hutchinson received an Arthur Vining Davis Foundation grant to produce a total of 50 paintings depicting the lives of the Seminole Indians. To fully immerse himself in the subject matter, he and his wife moved into a Seminole community on the Brighton Reservation near the northwest shore of Lake Okeechobee, where they remained for six years. He produced the first paintings of tribal elders and their families at then-remote camps in the Everglades, capturing this traditional culture in a time of rapid disappearance.
After a period of warfare and forced deportation, around 200 Seminoles remained in Florida in 1860. Today in Florida, there are two sovereign tribes — the Seminole Tribe of Florida and the Miccosukee Tribe of Indians of Florida, whose members are descended from these survivors. The Seminole people operate successfully in today's world and they have preserved a number of their traditions. They continue to be an important part of Florida's diverse cultural landscape.