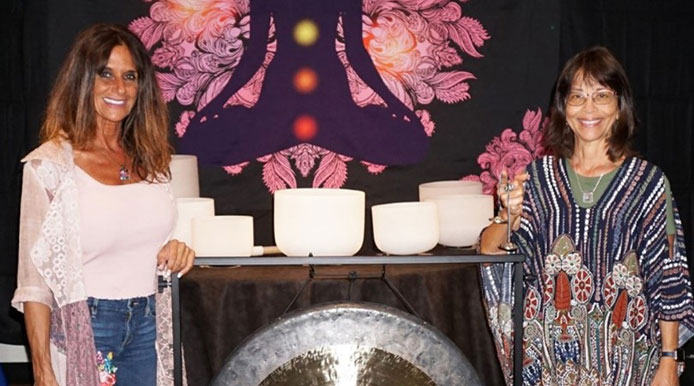 Date
Apr 01 2021
Expired!
Time
6:15 pm - 7:30 pm
Cost
$40.00
Soul Soothing Sounds
THURSDAY, APRIL 01, 2021 AT 6:15 PM – 7:30 PM
The experience of a Sound Vibration is a therapeutic practice that can uncloud the mind and stimulate insight and breakthroughs
About this Event
Deena Rahill and Doreen Poreba both have certifications in the practice of sound therapy. They describe these sessions as "meditative acoustic sound concerts." Sound therapy helps us move from higher frequency to lower frequency brain waves, leading into a profoundly restorative state, which activates the body's system of self-healing.
Sound therapy/meditation assists in changing your energy. By changing your energy, you change your life.
As human beings, we take in an overwhelming amount of information every day. It could be physical, emotional, spiritual, or all of the above. Whatever the source, absorbing so much takes its toll on your body and mind.
During a sound healing session, also known as a sound bath, you'll typically lie down on the floor or a yoga mat, perhaps cuddle up with a cozy blanket, and simply listen as a practitioner plays a variety of instruments and you "bathe" in the soothing sounds and vibration.
The effects of the experience may continue long after the session. Many participants have reported noticeable emotional benefits, including:
Removal of stuck emotions
Cleared energy blockages
COSTS/REGISTRATION
$40 per person Pre-register on this Eventbrite page.
April 1, from 6:15-7:30 p.m. on Thursday
Space is limited, and tickets must be pre-purchased to attend.
Location: The Elliott Museum, 825 NE Ocean Blvd., Stuart, FL 34996
Please arrive between 6 p.m. and 6:15 p.m. to get settled in. The event will begin promptly at 6:30 and will continue for one hour.
https://soulsoothingsounds.eventbrite.com
WHAT TO BRING
Please bring a yoga mat, blanket, pillow, sweater or whatever you need to be comfortable.
Chairs will be provided for those who do not wish to lie down.
For more information, please call Organizer Deena Rahill at 786-488-7782.
This event is non-refundable unless the event is canceled.