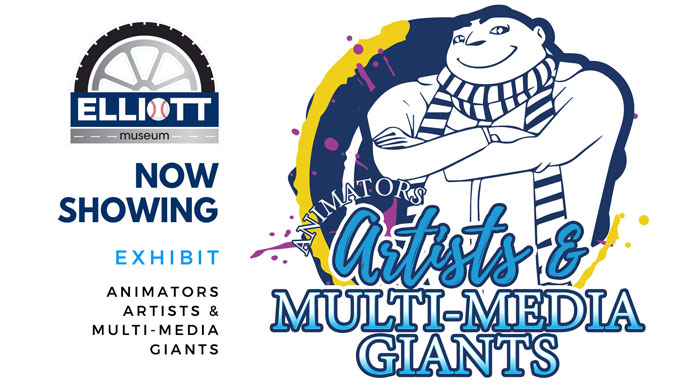 Date
Jan 31 2021
Expired!
Time
10:00 am - 5:00 pm
Cost
Included with Regular Admission
Animators, Artists, & Multimedia Giants
EXHIBIT ENDS JANUARY 31, 2021
Meaningful Experience For The Young & Creative Minds
The Elliott Museum has installed a very cool exhibit that will allow you to explore your creative side! The exhibit features a Makerspace Lab with eight computer stations, four 3-D printers and two die-cut machines. You can create your own animated movies and paper engineering projects, and make designs that can be sent to our in-house 3-D printers and laser cutters. Helpful docents will be on hand to introduce you to our easy-to-use technology! All of this is included with the price of museum admission.
Additionally, we welcome you to the world of animation! It's a world that's larger-than-life, where a picture has the power to convey a thousand words, ignite an infinite realm of imagination, and create a limitless source of smiles.
On loan from the Lighthouse Art Center in Tequesta, this captivating exhibit is a whimsical gallery of madcap characters from six of the world's leading animation artists.
The exhibit showcases the art of six very popular animation artists, including Carter Goodrich, character designer for Despicable Me, Ratatouille, Finding Nemo, Shrek, Hotel Transylvania, Brave, Open Season, Coco, as well as 17 New Yorker magazine covers (and counting).
We are offering a million heartfelt thanks to Janeen Mason, curator of the Lighthouse ArtCenter in Tequesta, Florida, for creating this magnificent exhibit, and sharing it with Martin County families. Janeen is one of the absolute shining stars of the art scene in Florida, and we are thrilled to be enjoying her talents and her beautiful heart!
Watch our Video to see this program in action!
All exhibits are included with Elliott Museum Regular Admission