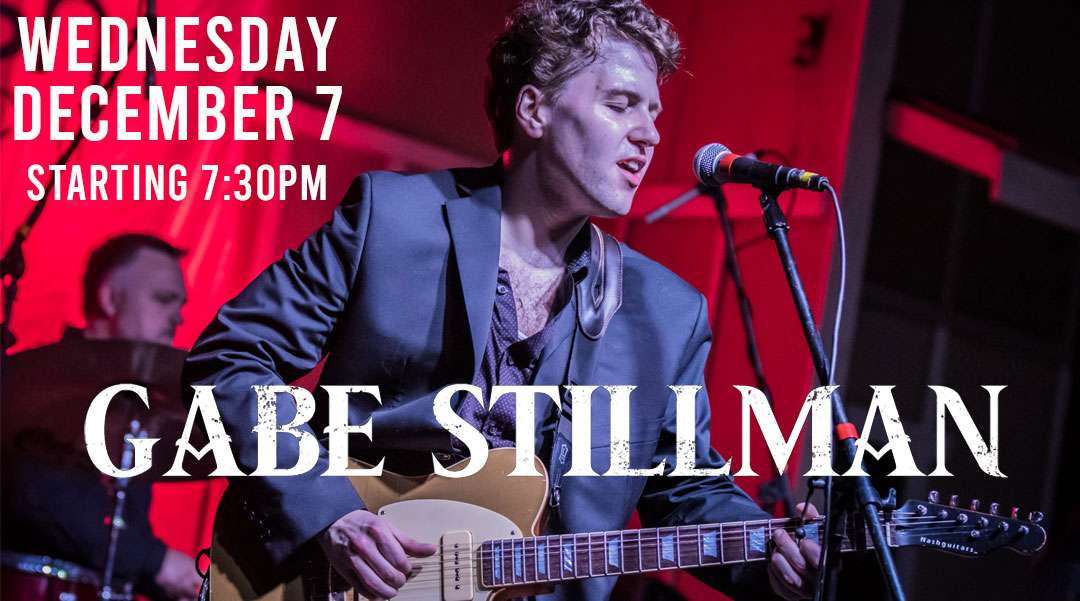 Troubadour Sessions-Stillman
One of the most promising young blues talents on the scene today!
The Gabe Stillman Band hits the stage in high gear and only goes higher as they embrace all corners of American Roots Music with their impromptu selection of original gems and carefully chosen covers.
Based in Williamsport, Pennsylvania, Gabe formed the band in 2015, shortly after graduating from Boston's Berklee College of Music. Now Industry professionals have taken notice as evident by Gabe's invitation to support ZZ Top at the famed Key West Amphitheater, as a Blues Music Award nominee in the Best New Emerging Artist Album category, and in March The Gabe Stillman Band was further honored by the 3rd Annual Central PA Music Awards, selected as the "Best Blues Band". Read More about The Gabe Stillman Band
The series is called "Troubadour Sessions," and the name is, by all counts, as intriguing as the musical acts themselves.
In our ongoing quest to best serve our beloved community, we are adding a very eclectic basket of music to our already robust repertoire at the Elliott Museum. Through a unique collaboration with Ron Hart at Earthtones, who is the former owner of Terra Fermata, we will present seven incredibly diverse offerings in the Museum's acoustically perfect Forum space.
What is a Troubadour, you ask?
One of a class of lyric poets and poet-musicians often of knightly rank who flourished from the 11th to the end of the 13th century, chiefly in the south of France and the north of Italy — and whose central theme was courtly love. Admittedly, many of these acts will not evoke the essence of a 13th-century minstrel…but the music will always be sublime.
The Forum is a beautiful room, visually and acoustically, but seating will be limited to 75 guests for each exceptional performance. We hope to create a quality listening-room experience for our guests fortunate enough to have a ticket.
Admission to these events will be $20 Online or $25 at the door-Seating is limited to 120 guests
JOIN US FOR DINNER!!! The fantastic new tiki "Hut" will be open for dinner and drinks before each performance, and we will offer a full bar outside the Forum throughout the show.
All performances will begin at 7:30 p.m. Buckle your seatbelts.
Check out the other 3 additional upcoming performances:
January 12
Flint Blade – Start the New Year with the ambient beats and grooves of the Chapman Stick, a 12-string guitar-on-steroids.
February 9
Ben Prestage – Ever heard anyone play a door or bedpan? Come and listen to this master of the diddly bow, cigar box, and anything else with strings.
March 9
Damon Fowler – Nominated for the 2022 Blues Rock Album BMA by The Blues Federation! From Tampa, one of the best singer/songwriters in Florida.