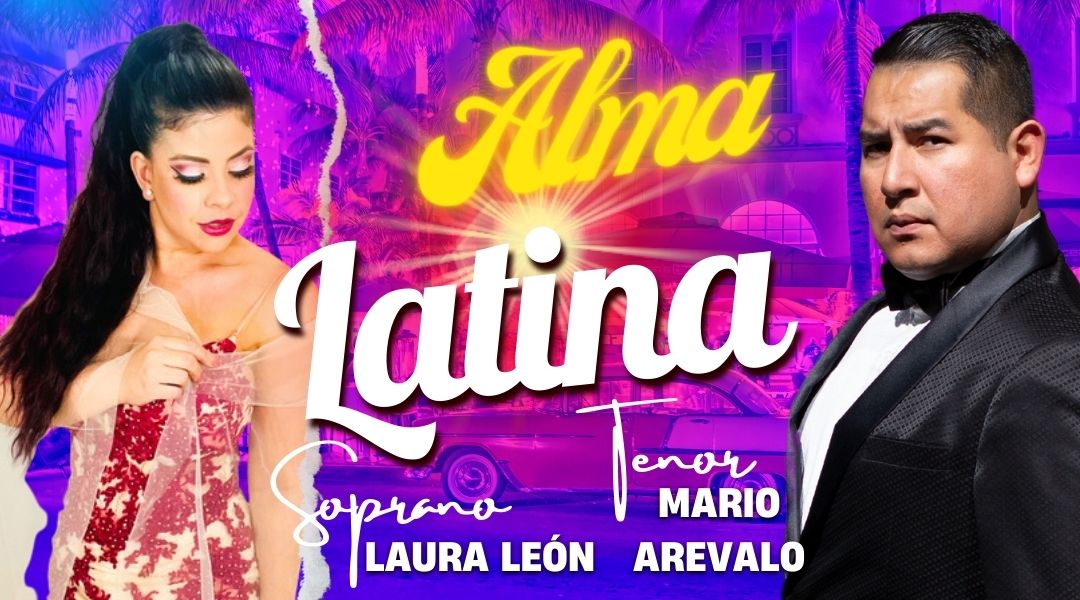 Alma Latina – Latin Soul
Join us for an unforgettable Opera Concert of popular Spanish pieces, including Latin American Operatic Song with Cuban soprano Laura León and upcoming tenor Mario Arevalo through the generosity of Brian Foss and Dennis Fruitt.
Cuban soprano Laura León
Quickly becoming a rising star on the operatic stages. Last season, Leon joined the Lyric Opera of Chicago in the world premiere of The Factotum, performed the role of Ana Maria in Héctor Armienta's Zorro with Opera Southwest, sang All the Heroines in The Tales of Hoffmann with Opera Louisiane, Lauretta in Gianni Schicchi with Onsite Opera, Cristina Kahlo in the Opera Frida with Opera Southwest and joined Modus Operandi Orchestra as the soprano soloist in Mozart's Exsultate Jubilate. This season's engagements include Dulcinea in the World Premier of La Ruta de Don Quijote, the Moon in Before Night Falls with Opera Southwest and Catarina in El Último Sueño de Frida y Diego with Opera Omaha.
Mario Arevalo
A tenor who has been praised by The New York Classical review in his debut with New York City Opera production of I Pagliacci as deftly well done. Voce di Meche says "Mr. Arevalo has a beautiful instrument, an effortless tone, and a warm Latin sound that helps to put a song across ". Mario Arevalo is an upcoming tenor in both recital and opera stages. Recently made his debut recital in El Salvador "Desde mi Alma" at the Teatro Nacional, San Salvador built in 1911. Mario Arevalo, was born in San Vicente, El Salvador. He received his Bachelor of Arts with a Music Concentration from Purchase College and graduated from the prestigious College of Fine Arts at Boston University, where he received his Master of Music in Voice Performance.He has performed with New York City Opera, Virginia Opera, Florida Grand Opera and Boston Lyric Opera.
Mr. Arevalo recently won The Melico Salazar Award at The II Concurso CentroAmericano de Canto Lirico in San Jose Costa Rica, an award giving to "The Best Tenor" in the competition and also won Honorary Mention representing his native country of El Salvador. In 2008 he was a National finalist at the National Opera Association Young Artist Competition, in which he received the Legacy Award. In addition to receiving an Honorary Mention Award in the Five Towns Young Artist Competition, he was a Finalist and Award winner with The New Hampshire Opera Idol Competition.
Cash Bar
$20 for Non-Members and $15 for Members