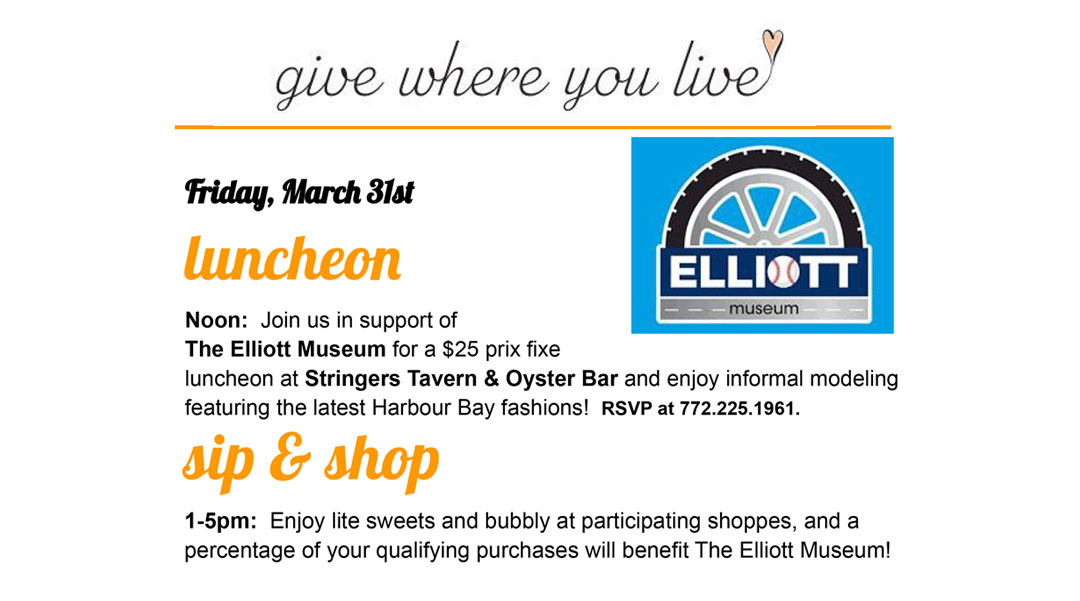 Lunch at Harbour Bay
FRIDAY, MARCH 31 AT NOON
Join us in support of The Elliott Museum for a $25 prix fixe
Enjoy informal modeling featuring the latest Harbour Bay fashions at:
Stringers Tavern & Oyster Bar
Harbour Bay Plaza
3754 SE Ocean Blvd Sewalls Point,
Stuart, FL 349
Sip & Shop 1-5PM
Enjoy lite sweets and bubbly at participating shoppes, and a percentage of your qualifying purchases will benefit The Elliott Museum!
15% at J. McLaughlin
15% at Evelyn & Arthur
10% at Cooper's Treasure Chest
The planned menu features four options from Stringers.
MENU OPTIONS:
1. Fathom Fried Shrimp– Panko Breaded jumbo shrimp, strong cocktail sauce, served with waffle fries and coleslaw
2. Cedar Plank Salmon– Fresh Atlantic Salmon, bourbon whole grain-maple mustard, served with wild rice and fresh vegetables
3. West Indies Chicken Salad Croissant– Curry chicken carrots, raisins, mango chutney, butter toasted croissant, served with side salad
4. Beet and Goat Salad-Mixed greens, roasted beets, candied walnuts, seared goat cheese medallions, honey balsamic dressing
We will need a count by option (and total) one week in advance of the event (March 24, 2023).
RSVP 772.225.1961