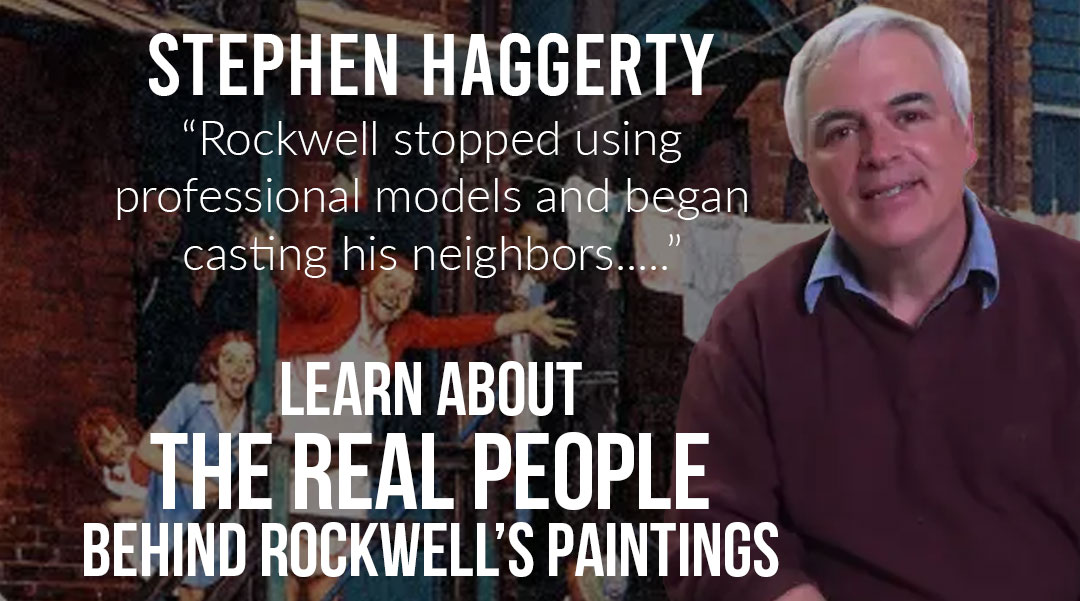 Lecture by Stephen Haggerty On Rockwell's Models
Tuesday, February 7th, 2023 From 6:30 – 8:00PM
Join us for a lecture by poet and former editor Stephen Haggerty and learn about some of the real people behind Norman Rockwell's Paintings.
"I knew some of the people we knew were models," Haggerty recalled. "But I didn't know I knew that many!"
Haggerty began tracking down these former neighbors and friends, many now in their 80s, and asked them about their experiences posing for the painter in Vermont. His latest book, title release date Feb 15, 2023, "Norman Rockwell's Models: In and Out of the Studio," includes stories of Norman Rockwell's models and their time in his studio.
Uncovering "the backstories of the friends and neighbors who posed for Rockwell in the quaint, rural village of West Arlington, Vermont," Haggerty, who spent summers in West Arlington from the age of three, uses his familiarity with the town and its locals to limn the lives of "the dairy farmers, carpenters, country doctors, soldiers, mechanics, and spirited children" who modeled as the subjects of some of Rockwell's greatest hits. Among them are Carl Hess, the owner of the gas station Rockwell frequented, who posed in 1943 for Freedom of Speech; Ruthie McLenithan, who modeled as a girl playing marbles in Marbles Champion; and Rockwell's housekeeper Marie Briggs, who was depicted in We the Peoples, a work currently displayed in the United Nations headquarters in New York City. Haggerty explores the dynamic exchange between artist and sitter and sheds light on the mechanics that created Rockwell's sentimental, romanticized work. Attuned to fine details, Rockwell dictated every aspect of the scenes he painted, sometimes by "coaxing exact expressions from his carefully selected models".
You can PREORDER or take a peek at Haggerty's book on Amazon
There will be a Cash bar for this event
$15 for Non Members and $10 for Members – Get your tickets below
RSVP by giving us a call  (772) 225-1961